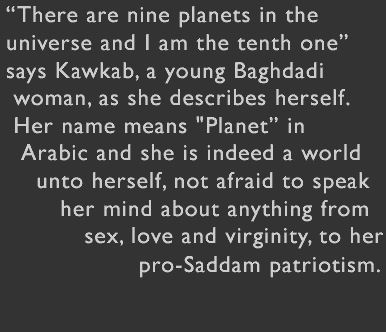 ''The Tenth Planet' paints an unprecedented picture of the current situation in Iraq from Kawkab's perspective. It is an extraordinary respite from the US media's incessant coverage of the cost of war measured in dollars and body-counts. This documentary aims to portray a more intimate and human side of Baghdad, woven with the joys, fears and hopes of a young woman's everyday Iife. The director grabs an opportunity to travel to Baghdad via Turkey from the northern road when a friend of hers is assigned there. Because the filmmaker is a lone Turkish woman, the viewer is given rare access to the lives of women in Baghdad. The viewer is ushered right into the heart of traditional Iraqi hospitality, a place where sincerity is commonplace and candor is often astounding.
Many Iraqi women remember Saddam's era as the good old days. We visit a neighborhood beauty parlor where many brides come to have their make-up and hair done, they openly express their feelings about the USA. It is apparent that the oasis of hope promised by the USA is quickly evaporating due to extreme insecurity, fear, lack of jobs and public services and the rising cost of living. The women justify their resentments with accounts from their every-day lives while waiting for their makeovers. Meanwhile, tired of these gloomy discussions, Kawkab is more curious about how the brides feel about losing their virginity after the wedding festivities are over.
Kawkab works as a secretary in a local university. Though she now has a new computer, the intermittent electricity often prevents her using it. Her career prospects there are similarly unstable, Kawkab's Sunni Muslim background demerits her among her predominantly Shiite colleagues.
While the Western media spotlights various religious sects like the Shia or Sunna, this documentary does not take any particular political stance. Kawkab's being unmarried plays a more a central role in the film than her being a Sunni, and her intimate revelations about Muslim relationships are a recurring thread throughout the film. We become witness to Kawkab's bold proposal to Bilal to become his second wife.
Throughout the documentary, Kawkab's optimism is compelling. Her overt curiosity turns even a shopping trip into an insight to a complex society in massive upheaval. She engages us deeply in this concealed culture. Kawkab's world is one of tragedy and momentous change. Her neighbor's sister, Lemiaa suddenly appears after 25 years of exile, momentarily creating a joyful and promising atmosphere. Lemiaa's articulate and revealing reflections on the hardships of separation and on the conflicting emotions about her return are collaged together with comments from other members of her family as they flock to the house to welcome her. "She left young, she returned as an old woman" says her sister as she embraces her tearfully.
When safety and security are primal concerns, issues such as gender equality remain abstract concepts, difficult to grasp. Kawkab willingly shares her torments, her feelings and her many deprivations, voicing issues faced by women in Iraq and in the Arab world at large. There is no emergency exit from Baghdad. Trapped in her body, her neighborhood and in her city, Kawkab plays out many facets of womanhood. Her inner conflicts are palpable as she yearns to be elsewhere, yet longs to see her ambition come to fruition and her hopes for her country fulfilled.
This is a story which will never come across from Baghdad as a news item. It is a 'close-up' of the human and female element in this colossal tragedy. It is about a detail. It does not take sides. If it does, it takes the women's side.
credits (partial list)
Director & Producer
Melis Birder
Producers
Simon Kerr
Jay Tran
A. Serge
Camera
Melis Birder
Editors
Melis Birder
Simon Kerr
Original Music
Jay Tran
Translation
Ameer Yassoun
About the Filmmakers
Melis Birder
Melis Birder is a Turkish documentary filmmaker. For the last 10 years Melis has called New York her home, dealing with various themes extensively both for Turkish television and in the US. She has rich experience as an educator and media consultant for a wide array of community groups and schools in New York.
Simon Kerr
Simon Kerr is a documentary filmmaker, who has directed and produced work for Britain's Channel 4, and in New York where he now lives. Simon ran a video production company in the UK, where he also lectured on video production in several universities.

Reviews
"This alternative vision of life in war-torn Baghdad, coupled with Kawab's screen talent and humour, make this a timely and extraordinary documentary."
Catherine Simpson, RealTime, Sydney, Australia, Dec 05-Jan 2006

"...showing us a slice of Iraq we're not seeing on the nightly news"
Matthew Hays, Montreal Mirror, Nov 10-16.2005


Contact

Melis Birder
melisbirder@yahoo.com
Simon Kerr
tel (001) 917 225 6582
fax (001) 718 576 1820
simonkerr1@aol.com